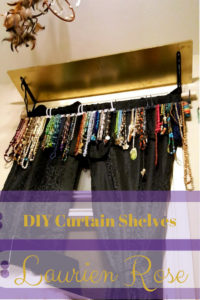 It's been almost two years since we moved into our home and (surprise, surprise) my craft room is still a mess. During one of my procrastination sessions on Pinterest, I stumbled upon this easy curtain shelf tutorial from the blog While They Snooze and decided to give it a try. Of course, I put my own little spin on it.
What You Need:
Shelf/Shelves
Two brackets per shelf
Screws for walls and shelves
Drill
Screwdriver
Pencil
Tape Measure
Set Square
Curtains
Curtain Rod or Wooden Dowel
STEP 1: Measure Window(s)
Originally, there were plain tan curtains hanging off of those self-mounted cheap adjustable curtain rods. I realized how cheap they were when I decided to hang a tapestry off of one and accidentally pulled half of it out of the wall. Whoops. After taking down the tapestries nailed to the walls to cover my windows, I measured the width of the window frames to figure out what the minimum length of my shelves could be. Both of my windows measured 42″ wide.
STEP 2: Buy Shelf/Shelves
There are tons of sturdy wooden shelves out there with corbels built on that I am sure would look lovely, but I was trying to spend as little money as possible to get this done in one weekend. I ventured out to Menards and bought two of these four-foot-long shelves in white for about $5 on sale.
STEP 3: Buy Brackets
You need to purchase two brackets per shelf, meaning I needed four brackets total. They also needed to be able to sturdily support a curtain rod or wooden dowel. I ended up choosing these because they matched the theme I hope to one day achieve in my craft room and they were also on sale. Altogether, I spent about $12 for the brackets.
STEP 4: Buy Curtain Rod or Dowel
Since I wanted to hang some potentially heavy curtains as well as display necklaces from these curtain shelves, I knew I needed something sturdier than a curtain rod so I opted to purchase a wooden dowel. I bought two of these 48″ dowels for $10.
STEP 4: Decorate Shelf/Shelves
For a cohesive space, I want my craft room colors to be black, gold and purple like my website, so I decided to spray paint my shelves gold using Rustoleum's Specialty Metallic Gold which I already had on hand. I only applied a single coat and chose not to use a primer because time was of the essence.
STEP 5: Shelf Length – Window Length = Difference
After the shelves were dry, I brought them up to my craft room and re-measured my window against the shelf. Subtracting the width of the window frame from the width of the shelf will give you the difference between the lengths so you can place your shelf evenly above. In my case, there was a six-inch difference between the two, meaning there would be the shelf would hang three inches over both sides of the window.
STEP 6: Mark Bracket Holes on Wall
Get that pencil handy! I wanted my brackets to be even on both sides. Knowing I had three inches to work with on both sides above, I decided to center the brackets 1.5 inches out from the window frame. Use your measuring tape to find out how far you want your brackets from the window frame. Then, place the brackets against the wall in that spot. Use your pencil to mark where the holes line up.
Step 7: Mark Bracket Holes on Shelf/Shelves
Match the measurement from the wall to your shelf/shelves and make a mark so you know exactly where to drill your pilot holes. We used our set square for precision.
Step 8: Drill Pilot Holes into Shelf/Shelves
Drilling a pilot hole prevents the wood of the shelf from splitting, so we highly recommend you take a minute to drill those before attaching the brackets to each shelf with screws.
Step 8: Screw Brackets onto Shelf/Shelves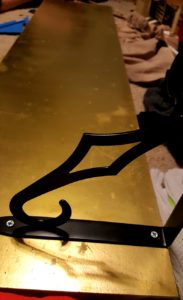 Now you can easily line the holes of the brackets with your pilot holes to attach the two in the perfect position.
Step 9: Drill Pilot Holes into the Wall
Drilling a pilot hole into the wall will let you know whether or not you are on a stud. If you are using drywall anchors like we did, then you'll want to drill pilot holes to thread the anchors, which keep the screws straight. If you're using drywall screws, gently tap the anchor in about 1/4″ after you've drilled the pilot hole.
STEP 10: Line Up Shelf/Shelves with the Marks
Two sets of hands are better than one for the next few steps. Of course, I'm not tall enough to reach where these shelves were placed, so Spence had to do this all on his own.
STEP 11: Screw Shelves Into Wall
Again, if you have an extra set of hands to help you with this it will be much easier but Spence managed to hold the shelf with one hand and screw the nail into the brackets with the other so you can, too.
STEP 12: Add Curtain Rod and Curtains
I chose brackets I could easily slide the curtain rod into. If you chose to buy wooden corbels without holes, please refer to the tutorial on While They Snooze.
STEP 13: Put Things on Your Shelf/Shelves
Go ahead and utilize your new curtain shelves! They're perfect for moving storage out of the way or decorating with knick-knacks that may not have a home anywhere else. Although I haven't put anything on top of my shelves yet, I'm using the curtain rods to display necklaces I have yet to upload to my shop. Soon, I will move my tiny collection of unicorns on top of one and display Sailor Moon memorabilia on the other.
Got questions? Did you have fun following this tutorial? Comment below and let me know how your curtain shelves turned out!